Club Repeaters
Our Primary Club Repeater: 2M @ 146.820 R- No PL SWIARC has a digital UHF repeater on 442.225 located downtown Omaha at 380 ft on the 400 ft Ch 6 downtown tower. Yaesu System Fusion C4FM and Wires-X connected. Tune in when you have a chance, evenings 8 or 9PM. Hey you digital guys, start a net!!!
Local Ham Clubs
Story Categories
Hot New Site – Lightning
Categories:
March 15, 2016
On the Monday net George NME gave us the lightning reporting site
that is LIGHTNINGMAPS.org
.
Watch it in real time. You used to have to pay big bucks for this info.
Hits appear in RED, and then degrade to YELLOW over time, finally to
ORANGE if they're an hour old.
.
That's LIGHTNING MAPS dot ORG
S.W.I.A.R.C.
Join the Club!
SWIARC club dues are $15/year. You may bring a check to any 4th Thursday club meeting, or send it to the club address:
SWIARC
PO BOX 661
COUNCIL BLUFFS IA 51502
Dues for students are half price, $7.50 per year. Treasurer for 2017 is Rich WA0ZQG.
Talk to Us!
Join us and participate in a
ham radio Net. [ - Find a net - ]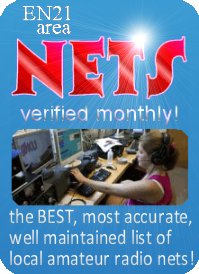 Read our Club Stuff!
Latest/Last Newsletter

Printed Circuit September 2012
More newsletters


SWIARC Constitition
released: April 28, 2016
Welcome to Amateur Radio:
Read These Tips for New Hams