Help Promote Youth Ham Radio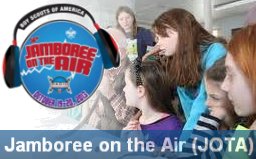 Wednesday evenings at 8pm on the W0WYV repeaer (147.39) you are invited to join Dudley (KD0NMD) for the Scout Net.  The purpose of the net is the promotion of Amateur radio, primarily, for children interested in becoming ham operators as well as anyone newly licensed or otherwise wanting to get more involved. New licensees are encouraged to participate as well as experienced ham operators. Upcoming events will be discussed all of which are positively rewarding once you jump in and get involved.
Dudley started the Wednesday Scout Net in November 2016 as an effort to coordinate JOTA participation.   JOTA (Jamboree on the Air) is an annual event where Scouts around the world meet on the air via Amateur Radio.   In addition to JOTA there are a number of other youth events throughout the year. Dudley has been instrumental in the promotion and coordination of many such events locally.
Opportunities for licensed amateur operators to volunteer and get involved with activities such as the Boy Scouts MBU (Merit Badge University,) Girl Scouts TDOTA (Thinking Day on the Air) and other youth events presents a way for you to join in as well.   You will find the experience rewarding and you will help to continue a ham radio tradition for the generations.
Other topics during the net are ways to help new licensees get their feet wet and get on the air. Programs, presentations, and other activities are discussed in an open forum manner in which new ideas are always welcome. Please consider joining us each Wednesday night at 8:00pm on the Bellevue Nebraska repeater 147.390, positive offset.
Update:  Beginning in 2017 there will be a PL tone requirement on W0WYV.  Please use a PL / CTCSS of 131.8 Hz.