Bill KE0XQ Receives Lifetime Achievement Award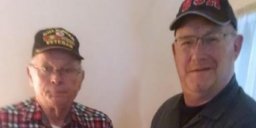 Congratulations to Aksarben and Plattsmouth ARC member Bill McCollum KE0XQ for receiving the Skip Miller W0KVM Lifetime Achievement Award for Amateur Radio Nebraska Section. If you remember, Bill came to a SWIARC meeting with George KB0ZZT back in October for the DMR/MotoTRBO presentation.
The Skip Miller W0KVM Lifetime Achievement Award is presented to someone who has been dedicated in promoting Amateur Radio during their lifetime.
Bill McCollum KE0XQ is an Official Observer Coordinator, and Assistant Section Manager for the ARRL.  In 2004 Matt Anderson succeeded Bill as the Section Manager after Bill decided that after 10 years of holding the post, it was time to retire.  Since Bill has served as Assistant.  [1]
Matt Anderson KA0BOJ is the Nebraska Section Manager and is seen in the photograph presenting the award to Bill.
Related:
ARES Pressed Into Service in Nebraska Blizzard of 1997 (eham.com), Contributed by Bill McCollum, KE0XQ
W0AP – Silent Key (eham.com), Submitted by: Bill McCollum, KE0XQ
written and published by: Derek Winterstien W0DBW