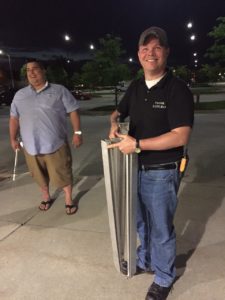 At our heavily advertised 4th Thursday May meeting, Joe K0NEB (ex WA0WRI) gave us a lot of history and info on the most popular Hamfest, the Dayton Hamvention, including the recent move to a new arena with pictures and videos from this year's and other shows going back over 20 years. (Joe went to every one of them)
.
Joe went first so he could get back to his Lincoln NE home at a decent time, so after another hour of business meeting the secondary program of Albert KE0LOL showing off his newly constructed PORTABLE ANTENNA MOUNT was not seen by all.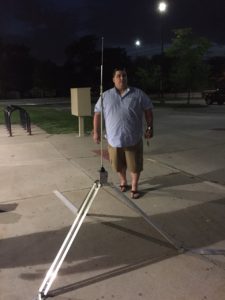 Albert found instructions and measurements on the internet and used his home workshop to make a really nice looking and working portable antenna base. It's all aluminum as demoed by Patrick LRO holding it up with one hand.
.
Legs unfold to positive stops, and panels hinge out flat to make capacitive contact with 'ground' to make it work better. The mount takes a standard 3/8 by 24 thread screw base. Albert brought along a Hustler 20M whip, but you can use any other brand (Lakeview etc.) or a full size quarter wave if you wish. Just the thing for a quick F/Day setup.