Category Archive:
Net News
What's new in the Net News? Who said something goofy during that last net?
Rob (N0SNW) writes, "Mondays at 7:30 pm central time, the C4FM Fusion Technical net in the Wires-X room: MNWIS-FUSION. […] As long as the 442.225 repeater is connected to the Wires-X network, you can listen to (and talk) on both nets."
Read the rest of this entry »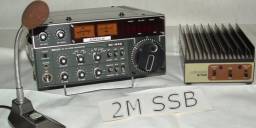 It's not Instagram, it's something better.  Pictures from the shacks of those participating in the new and popular 2M SSB Net held every Sunday.   In his story, 2M SSB Sunday 8PM, Rich discusses the origin of the net, where it's at, and who has been checking in.  Now you can see how they're checking in, because not all VHF transceivers do Single Side Band, and those that do are worth taking note of.  Share your pics with all of us and we'll post em here!
The official name for the net has been adopted and is as follows:  The Omaha Metro 2M Side Band Net.
PICTURES WILL BE ADDED AS THEY COME HERE.  CHECK BACK AND THERE WILL BE MORE!
Click on the picture to make the image larger.
---
---
---
---
---
---
---
---
Don Brown, W0AF was net control on Sunday, February 19, 2017.  There were 18 total check-ins during the net.  They were as follows: W0AF, N0GR, W0DBW, KB0QKH, N0SNW, KC0FAN, K0NHV, KC0YKO, N0QET, AD0QH, W0PYA, WB0CFC, K0OQL, NE0G, N0JSB, KD0YTI, W0JLG, W0KDC.