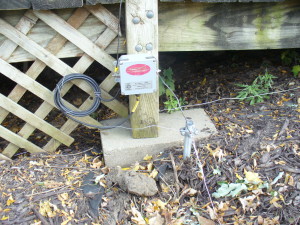 It's hard to see the wire in a picture of a Wire Antenna so we're showing you the base
of it instead. Joel KQ0J has a new antenna for 160M. It's a 150 ft wire strung through
a couple of trees – insulated wire so the impedance won't change a lot when it's wet.
.
Coax runs outside to a 4:1 Un-Un Balun, and then to the wire. Three radials, two 50 footers
and a 75, give the antenna something to work against. Maybe you can see some of these
details if you click on the picture to enlarge it.
.
There's an auto-tuner inside the shack.
.
Q. What's the Very Obvious part of the antenna installation, easily visible here,
that is NOT MENTIONED? Duh. It's a good idea to have one of these in most antennas.