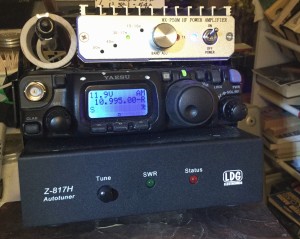 Message 1
.
Here are the three components, presently attached to each other. Very compact.
I have a pair of gel cell 12V 9Ah batteries ordered for power.
Current antenna is the MFJ Big Ear adjustable dipole.
.
Message 2
.
There is an accessory 8pin outlet in the rear of the Tx but it is also used to
control the antenna tuner.
Is there a "Y" cord to allow two things to access that one outlet? It looks like
it might have a pin that goes to ground while transmitting, just what I need but
it is occupied already with a LGD Z817H auto tuner control cable.
I'm a bit reticent to get inside the Tx and wire into the back of the "mic"
outlet. That is some very compact stuff.
.
Message 3
.
Maybe I don't need no amp, just talked to Ottawa Canada
and New Brunswick Canada on 20M
! ON FOUR WATTS AND A BIG EAR. !
.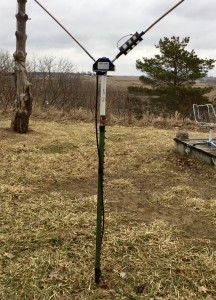 .
And then there are those who think there's not enough time for QRP
in this world. Russ K0LUW is apparently one of those. He sent a
pic of his station – see below: