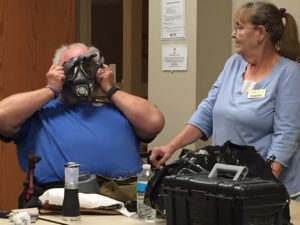 AFTER THE NOVEMBER 18 2016 SWIARC CLUB MEETING GEORGE KD0NME CONDUCTED A VERY INFORMATIVE PRESENTATION ON BEING PREPARED FOR A DISASTER.  HIS TIPS WERE USEFUL AND CONSTRUCTIVE, AND COULD BE USED TO SAVE YOUR LIFE.
---
The new Disaster Prep Net (.82 at 9PM on Tuesdays) has elicited a lot of interest. George KD0NME
is one of those who has actually thought about it and done some preparation. Staying home and
having a gasoline generator is great fun, especially when Field Day comes around, but George was
showing his 'Go' kit for our November program assisted by his XYL JoDee KD0RNC.
.
He had quite a few items, mostly cheap to buy and useful for a variety of purposes, and only the
last item, a Sony ICF-7600 GR, related directly to radio. George and JoDee used to sell butane
stoves at Flea Markets and that was the first item he showed. Among other items, he said many
were available at lower prices if you bought a dozen for 20 bucks rahter than one at a time.
Here is a list of the items I was able to copy down:
1 Cook stove, 1 burner, butane
2 Fresnel lens, large, explodes crickets
3 Tooth brush & floss kit
4 small mirror (plastic)
5 Fresnel lens, wallet size, kills bugs slower
6 Mylar blanket, 3 x 5 packet
7 single edge Razor blades
8 small pad of paper
9 couple of short pencils
10 crank light (visible in pic)
11 mosquito net 2′ x 2′
12 Leatherman tool
13 knife & fork, folding type
14 P38 G.I. can opener
15 '550' cord (parachute line)
16 dish towels (3)
17 2 qt canteen, surplus
18 K-bar knife (not the cheap ones)
19 55g leaf bags
20 pocket knife
21 'Life Straw' (individual water filter)
22 hatchet/hammer combo
23 Multi-tool, hammer/plier/knife
24 gas mask (his was surplus from Poland)
25 ferro-cerium lighter
26 the Sony radio, fancy, copies SSB
.
The ferro-cerium (sp?) lighter uses regular Ronson lighter fuel but has an 'O' ring and does not
leak. The ferro part allows you to 'strike' a spark to ignite it. Buy a dozen for forty bucks
on Amazon. Sell the rest. That applies to a lot of these things, a very few bucks each if you
buy a dozen or 20.
.
George's delivery was full of humor, especially regarding the 2 Fresnel lenses and how they work
on bugs. The entire set would fit in a backpack or tool box for when you need to 'bug-out.'
Note: Gas masks all use a standard thread for the filter element. Well. One of two standards.