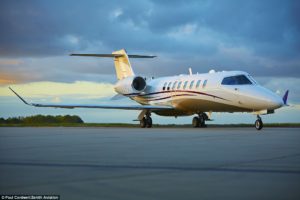 Sunday night 01/08, two hours before the 9PM net on 146.94, you could have heard Mark KC0DWE aboard a Learjet at 39,000 feet traveling from somewhere North towards Florida. He mentioned coming out of the Dakotas, across a corner of MN, and then down diagonally across Spencer Iowa to Fort Dodge and Des Moines.
.
You had to 'have been there already' to get in on it because the whole thing lasted only a dozen or two minutes, DWE crystal clear on 146.52 and most everyone else undiscernable (except Nick KC0YKO who called several times unsuccessfully).
.
DWE was S2 to S4 most of the time, full quieting, and responded to stations KE0KER, K0FTB, KE0LCQ, and KD0VYD among others. Every time he got done talking there was a pileup, unheard here in Co/Bluffs, but Mark would say 'I heard FTB' and then get the full call and have a short QSO. He finally quit nearing Des Moines, saying he was hearing a 2 way on the ground and didn't want to interfere. He also said the flight was of a medical nature.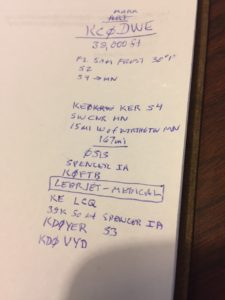 -WA0ZQG