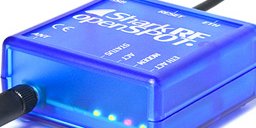 Turn your home Internet connection into a minature repeater for your DMR, D-Star and C4FM radios so you're always within range of a repeater and able to access a wide variety of digital networks. Two such products are now available.
SharkRF makes the OpenSPOT which is a standalone device that connects to your LAN.   Another option is the DV4mini which is a USB stick that makes your PC a digital hotspot.
On Thursday, February 23 SWIARC member Jeff KE0GKF conducted a demonstration of one of these digital hotspot devices directly following the regular SWIARC club meeting.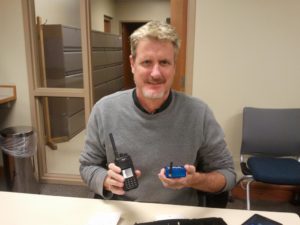 The SharkRF OpenSPOT is basically a mini, low power simplex repeater you can set up in your home utilizing your Internet connection to link up with the various digital ham radio networks.  A hotspot is an interface that allows you to connect to a digital network directly, without the need of an actual repeater in your area.
To set up the OpenSPOT simply connect it to the USB power source and your Internet router.  The openSPOT has two internal microcontrollers, designed to use a web based interface.  Once connected you can configure it with a web browser such as Google Chrome or Firefox.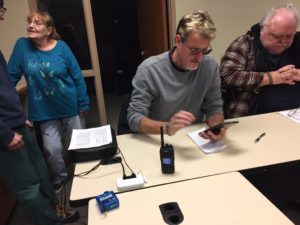 In the configuration you select one of the operating modes: DMR, C4FM, D-Star.  Jeff configured his for MotoTRBO which is the DMR option.  The OpenSPOT allows you to select two different frequencies if desired.  Once the OpenSPOT is active, time slot, talk group, and digital network is all provided by your DMR transceiver.  Jeff used a TYT TH-380 which not retails for just over $80.00.
The openSPOT has cross mode capability, allowing a DMR transceiver to access C4FM and visa versa.  You will be able to use both modes from a single transceiver.
Unlike many of the Chinese radios out there this device has fully upgradable firmware! Yes, you can flash the firmware with updates which may add new features or fix known issues.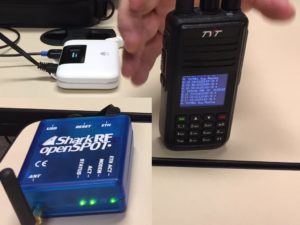 It is a low power repeater for use around a short range area such as your home.  At 20mW it provides enough power for you to walk around your house and go out to the back yard and still get in with your HT.
Jeff chooses to use his OpenSPOT for MotoTRBO / DMR.  Unlike the limited C4FM / Wires-X system, DMR offers not only one network of talk groups, but several complete networks with their own talk groups, regions, and repeaters.  Without the openSPOT you only have access to the DMARC DMR network, as a general rule, in this area.  Now that Jeff has an openSPOT he can get on one of several DMR networks.  Each is an entire world of its own.  Jeff particularly likes one called the worldwide Brandmeister network.
DMARC on MotoTRBO DMR is the largest digital network in North America, with a 16:1 repeater base and much higher user base when compared to D-Star and System Fusion.  Yet, there's much more because DMARC is only one of the DMR networks available.  Jeff's investment really has opened a universe of digital ham radio with more people to talk to and places to go than any other digital network in the world today.
Remember, devices like the SharkRF OpenSPOT were not developed to replace repeaters, but rather to supplement them. In areas where there is no repeater, a hotspot allows the user to connect directly to a digital network using the internet.  In this way it has some comparisons to IRLP, another one of Jeff's favorite hangouts.  You talk though a radio, and the OpenSPOT converts that to IP and connects you up to the digital networks.
GigaParts has the SharkRF OpenSPOT listed for $239.95 as of February 2017.
Thank you KE0GKF for the information and club demonstration.
Photographs courtesy Rich WA0ZQG and Derek W0DBW.  Southwest Iowa Amateur Radio Club.