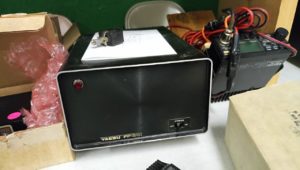 Every fest has a 'theme' in the form of a Lot Of Something or Other. I thought there was an unusual selection of Power Supplies – an Astron 35 with meters and adjustable Voltage and Current offered at $80 (they're $200 new), and a lot more including this orphan FP-301 made to match the Yaesu FT-301 all solid state HF transceiver. The 301 is Ham Band only so the receiver is NOT general coverage. It came in a variety of models, the basic one a Twenty Watt input QRP rig, or with a 2 inch thick wide band amp on the back, a full hundred Watts. That's what the power supply is for, a regular hundred Watt rig, and it has binding posts on the back to connect any other of your rigs. No meter, but you could put one of those digital voltmeter modules on the front (D&L sells them).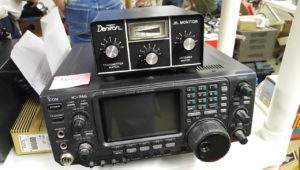 The ICOM 746 was an earlier all band all mode that didn't have 440. (Nobody's on 440.) It does have a hundred Watts out on ALL bands including 2M. You haven't lived until you've had that much on 2M SSB.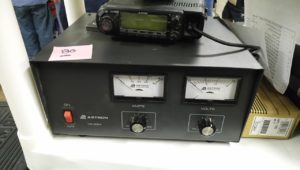 This is a really good deal. Even if it doesn't work fully they're easily fixed.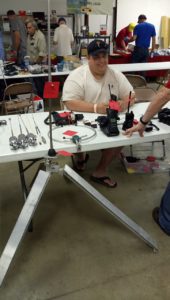 SWIARC member Albert KE0LOL offered his beautifully made portable Antenna Mount and a selection of HF whips to go with it. Perfect for Field Day. It sets up in five minutes or less.