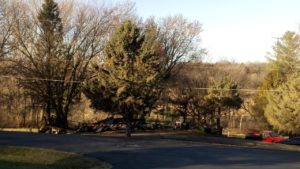 We had an 'Impromptu' Net yet again, 3 in a row now, Thursday night at 9PM 11/30. Rich mentioned
that a house near him burned down and his power was off, and that started a few comments on
Disaster Prep. Art UWR says he has a couple of radios and some H/Ts and could possibly transmit
on about 4 of them at once (using both hands and maybe a foot or elbow). He also uses Solar
to charge at least one of his several batteries.
.
Mike FAN has a camper that he takes out to the river regularly. He also takes his Yaesu 817
(the little one that's like an 857 only 5 Watts) and does everything 'portable.'
Albert LOL found a Kawowski 3kW generator recently advertised as not working. He made an offer;
took the thing home; cleaned out the carb and put in a gasket kit, and it now works fine.
.
The net went on for quite some time – honest, we tried to keep it short – but didn't quit
until around 10PM after which Don W0AF and John K0MXL checked in with comments. Rich had a
power outage at his house due to the firemen at the house fire, and it took him some time
to hook up a battery to one of his rigs (not ready to go at a moment's notice) which
prompted John MXL to come up with words of wisdom learned at his mother and father's knee
(father K0ZQ and mom WB0ZQC), "Two is one; one is none." Good advice for Preppers.
.
Lincoln has a net EVERY night at 9PM. We have one Tues and Wed, and sometimes Thurs.
Anyone want to do the rest of the week?
.