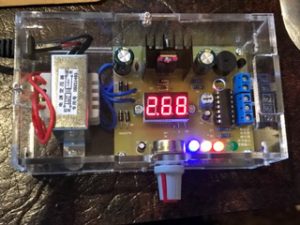 Mike KC0FAN, Football At Nebraska, went to the Hearland Hams sponsored Kit Building program
in Glenwood IA recently, and has now built this cute little variable power supply. It's only
eighteen bucks on Amazon, and comes complete with a transparent plastic case to keep your
fingers from contacting the 120VAC. He says:
.
It was a fun project to do. The board is laid out well and I do like the case so I'll keep my
fingers out of the line voltage. If I was doing a class on kit building this project would make
a great starting point.
Toughest thing on this one was the IC base and mods to the display leads so it can be hardwired
and mounted to the board. I did use the ps last night to check the led (just for the fun of it.)
on the transistor checker.
.
The 'transistor checker' is Mike's second kit project.