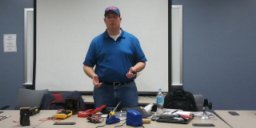 Kit building has become very popular among local hams. Our club President, Russ, has provided us with a follow-up shopping list of supplies the kit builder will surely need as illustrated during his presentation at the January club meeting. Whether you made the meeting or not, you will undoubtedly find his Amazon shopping list useful.
Russ has put together a comprehensive shopping list using Amazon.com that you can view by following this link: Amazon Wish List AD0QH – Ham Radio
You would have seen many of these items during his January presentation. The presentation not only applies to kit building, but electronic circuit work, rework, and service. This is entirely an excellent starter kit for the electronics service enthusiast.
Here is a TEXT list of those items mentioned above:
*Carson LumiLoupe 10X Power Stand Magnifier With Dual Lens (LL-20)
*Chemtronics 10-25L Chem-Wik Rosin Desoldering Braid
*Excelvan M6013 Digital Auto Ranging Capacitance Meter Tester Capacitor Tester
*MagnifyLabs Headband Magnifier (Optical Visor / Binocular Magnifier) – with One Optical Glass Lens Plate (2.5x at 8″ Focal Length)
*Dual Wall Adhesive Lined Heat Shrink KIT – 85 Pieces – 3:1 Shrink Ratio – Size Range: 3/32″ to 1/2″ – Black, Clear, Red
*Hakko FX888D-23BY Digital Soldering Station FX-888D FX-888 (blue & yellow)
*PanaVise Model 201 "Junior" Miniature Vise
*Hakko CHP CSP-30-2 Wire Stripper, 20-10 Gauge Maximum Cutting Capacity
*Hakko CHP CSP-30-1 Wire Stripper, 30-20 Gauge Maximum Cutting Capacity
*Hakko CHP PN-2007 Long-Nose Pliers, Flat Nose, Flat Outside Edge, Serrated Jaws, 32mm Jaw Length, 3mm Nose Width, 3mm Thick Steel
*Hakko CHP-170 Micro Soft Wire Cutter, 1.5mm Stand-off, Flush Cut, 2.5mm Hardened Carbon Steel Construction, 21-Degree Angled Jaw, 8mm Jaw Length, 16 Gauge Maximum Cutting Capacity
Enjoy shopping!!!
note:  If Russ puts together some of his presentation notes with informative tips they will be added to this article as an update.  It pays to check back and keep track of whats on the SWIARC web site.