SWIARC met in McClelland Iowa for Field Day 2017. We've put together a collage from photographs for you to enjoy while we await the official results. Everyone enjoyed the good weather and lunch was served with those much awaited Omaha Steaks.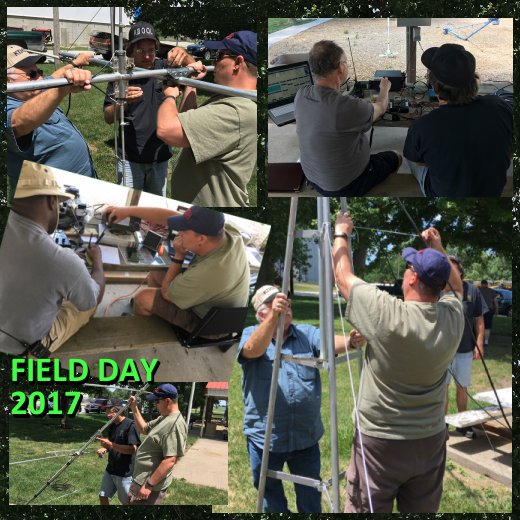 Coordination before and after ARRL Field Day involves a great deal of work. All of the contacts have to be counted and organized, removing duplicates, and then the final tally sent to the ARRL. The field day coordinator this year was Greg Ross N0GR. Take a moment to thank Greg for his efforts because many hours go into this volunteer position.
When the final report is ready those results will be posted right here, and here they are!
Callsign K0SWI
Class 7A
Section IA
.
Total CW points 8 (4 contacts on 20M)
Total Phone pts 334
.
QSOs
80M 66
40 104
20 112
15M 5
10M 26
6M 17
2M 4
+
4 CW on 20M
.
Sent in via the web 02 July
.
Also, anyone who attended Field Day 2017 in McClelland should consider sharing your experience with us. We'd also like to see any pictures you took.
On field day Amateur operators strive to work as many stations as possible on any and all Amateur bands (excluding the 60, 30, 17, and 12-Meter bands) and to learn to operate in abnormal situations in less than optimal conditions. Field Day is open to all Amateurs in the areas covered by the ARRL/RAC Field Organizations and countries within IARU Region 2. Even with a technician class license an Amateur operator can work HF bands with Extra class privileges under the club designation. Non-licensed individuals are also welcome to come and participate in field day, including making radio contacts.