Pictures, video, and written accounts of your field experience on eclipse day will be collected and shared here on the Southwest Iowa Amateur Radio club web site.  Did you work any HF stations?  Did you make any VHF simplex contacts?  Did you see totality or just cloudy?  Email us your full report for the web site.  Send them to swiarc (at) w0dbw.com
! THIS STORY WILL BE UPDATED AS MORE PICTURES AND REPORTS COME IN !
1. Where did you travel to view the eclipse in the totality zone?
2. Did you operate an amateur station during?
3. What weather did you experience?
4. How were driving conditions on the route you took?
5. Did you archive your eclipse experience with pictures or video?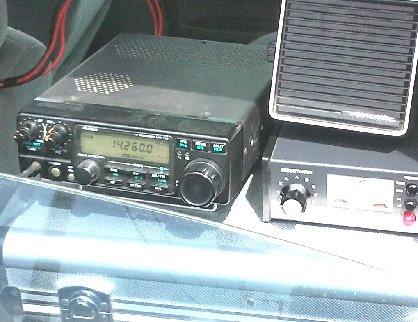 Please share with us!  swiarc (at) w0dbw.com  or you can also email Rich Swig at his address.
*** ECLIPSE 2017 AS WITNESSED BY MEMBERS OF THE HAM RADIO COMMUNITY ***

Rich (WA0ZQG) went to the Fairmont State Airfield which is three miles south of Fairmont, in Fillmore County, Nebraska.  Rich traveled about 120 mi.  Rich reports the Interstate was closed from Grand Island to York.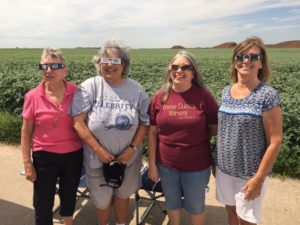 Dave (KD0VUB) went to Beatrice.  He reports that it was cloudy there and that traffic was heavy.  At some points traffic on the Interstate stopped completely.
Bill (KD0FJR) went with Don (W0AF).  On their trip to Table Rock they ran into heavy rain.  Bill operated on VHF attempting to make contacts on 52 simplex.  Variable clouds and by good fortune it cleared for a bit during totality.  I-29 was pretty smooth on his travel home.
Derek (W0DBW) visited a friend in Hallam during the eclipse.  Due to cloud cover the totality experience was somewhat of a wash, however, the sky cleared enough to enjoy watching the moon travel from about 80% totality away from the sun.  Contacts were made HF on the 20-meter band as well as on 52 simplex VHF.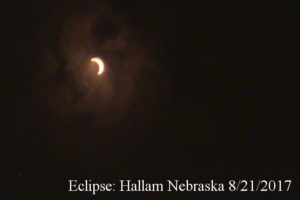 Mike (KC0FAN) traveled to Ohiowa 20mi south of York. The rain was to the south. The clouds parted in time for totality. Although it was slightly hazy. Mike could here some locals talking on VHF 52 simplex.
Omaha was not in the zone of totality.  Lincoln was on the edge of the zone.  Beatrice and Falls City were almost dead center.  Travelers witnessed the eclipse from a variety of locations including Falls City Nebraska.  It was amazing luck as the rain clouds and overcast skies that had blocked the sun all morning and afternoon parted just a bit before 1 p.m., enough for the crowd gathered in Falls City to watch as the moon slowly obscured the sun. Totality reached the city at 1:04 p.m.
Albert (KE0LOL) witnessed the eclipse from Omaha.