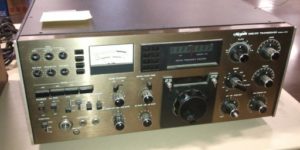 Among the vintage classics at the Lincoln Hamfest / State Convention was this beautiful Hy-Gain 3750 HF transceiver acquired by Greg N0GR. Originally in the U.S. market this radio was sold as the National RJX-1011D and some identical units were even labeled Panasonic!   See pictures from the Lincoln Hamfest and more on this mysterious boat anchor!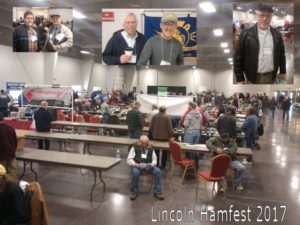 It was 36 case screws shy and weighed around 65lbs, capable of operating on the pre-WARC bands in SSB and CW modes only.  It proudly displayed the Hy-Gain logo on an anodized aluminum front panel, a company formerly located in Lincoln Nebraska.  This Hy-Gain is actually a National RJX-1011D and went for a fraction of its online value.  The cosmetic condition was excellent, however, no report on the operational status. Great grab Greg!
Related: The Restoration of a  Hy Gain 3750 Transceiver (external link)
A former employee of Hy-Gain, Evan, had several tables and although he was not the seller of the Hy-Gain rig, he knew a great deal about that model.  He said the Achilles is basically a fuse buried deep within the main transformer that, when blown, is not easily replaced.  It was advertised as 200w however actually put out 100w transmit and an input power of 200w.  The finals are a pair of S2002 (6kD6) beam power pentode tubes.
The 3750 includes a digital frequency display that can be calibrated against the WWW 10MHz signal, voice operated relay (VOX) operation, break-in keying, special interference suppression circuits, and an automatic gain control (AGC) with selectable time constants.
Evan had a beautiful Collins 51J4 receiver that he sold for an excellent bargain.  Between the Hy-Gain and Collins I was kicking myself for not pulling the purchasing trigger before it was too late.
What did you (any reader) come home with from the Lincoln Hamfest?  Send us your pictures and we will post em here!
-W0DBW
Excerpt from a 1976 73′ Magazine Advertisement:
There is no substitute for qualify, performance, 
or the satisfaction of owning the very best. 

Hence, the incomparable Hy-Gain 3750 Amateur 
transceiver. The 3750 covers all amateur bands 
1.8-30 MHz (160-10 meters). It utilizes advanced 
Phase-Lock- Loop circuitry with dual gate MOS 
FETs at all critical RF amplifier and mixer stages. 
There's a rotating dial for easy band-scanning and an 
electronic frequency counter with digital readout 
and a memory display that remembers frequencies at 
the Rip of a switch. And that's just the beginning. 

Matching speaker unit (3854) and complete 
external VFO (3855) also available. 

See the incomparable Hy-Gain 3750 at your radio 
dealer or write Department MM* There is no substitute.

3750 -$1895.00

We keep people talking. 

Hy-Gain Electronics Corporation 
8601 Northeast Highway Six; Lincoln, NE 68505 


©1976 Hy-Gain 

Update 3/26/2017 – Greg sold the Hygain 3750 to an amateur radio operator in Florida.  It was reported that the radio was fully functional.