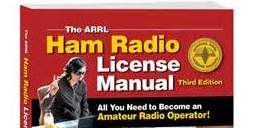 Leonard (KD0QFE) writes, "Our Technician License Class is starting October 7th, 2017. It will run over three Saturdays; October 7th, 14th & 28th from 8:30am to 4:30pm. All three sessions will be held in a conference room at Bellevue Medical Center, located at 25th street & Highway 370."
Get Your Friends and Family into Ham Radio
The BARC (Bellevue Amateur Radio Club) will be sponsoring free classes for individuals wanted to become a ham radio operator. Although the class is free, students are encouraged to come prepared with a copy of the ARRL Ham Radio License Manual 3rd Edition.
Location: Bellevue Medical Center / Nebraska Medicine – 2500 Bellevue Medical Center Dr, Bellevue, NE 68123 – in the basement down the hall opposite the cafeteria in Conference Room D.  The hospital is on the corner of 25th Street and Highway 370.

Cost:   Class is free. Study material, 1 book, is at the student's expense.
The class will be held over three Saturdays, October 7, 14 and 28 from 8:30am – 4:30pm. There will be a break for lunch and students will have access to the hospital grill and salad bar. The food is pretty good.
ARRL Ham Radio License Manual 3rd Edition
Although there is no fee to attend the class, but you will need a copy of the ARRL Ham Radio License Manual 3rd Edition. You can purchase it from a source you choose, or order it though BARC for $25.
If you are interested in ordering the book though BARC or if you would like to request more detailed information on the class, please contact Dennis Mitchell – KC0YKN.
Email: kc0ykn (at) cox.net
Ph: (402) 690-2587
Although walkins are welcome, Dennis also asks that you please contact him ahead of time so that the instructors will have a good estimate of attendence.  Please let em' know if you plan to come!
Additional Details
The class will be in Conference Room D located in the lower level of the medical center.  Enter the main doors on the south side of the building and take the stairs down to the lower level.
Over the three days of the course students will learn the different subjects needed in order to pass the test for a Technician class amateur radio license.  Each day is different and students should plan to attend all three Saturdays.