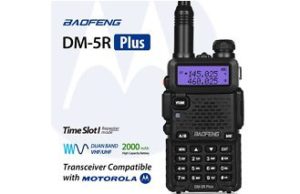 For $70 you can by a Baofeng DMR HT that will not work on our local DMR repeaters. Many sellers don't bother disclosing this to buyers.   Make sure your new DMR HT supports Tier 2 (TDMA) or you'll be left out of the Omaha DMR scene.
The majority of DMR / MotoTRBO repeaters in the Omaha area are on the 70cm amateur radio band, use the DMARC DMR system, and are connected to a national and global repeater network.   You can simply key up a local repeater and be heard around the world.
There's a number of DMR / MotoTRBO / Digital HT's being offered for sale that won't work with our local DMR digital repeaters, or most of the nationwide system. To avoid getting into great detail as to why, it can be summarized as saying that the digital transceiver you buy must support shared timeslot CDMA Tier 2.
Q: Did Baofeng Company try to pull one over on U.S. customers?
A: That depends on the person you ask. According on an article on qrznow.com Fujian Nanan Baofeng Electronic Company is not taking calls. However, if you read KM4FMK you will learn that Baofeng is not behind the radio. He says, "this DM-5R radio is NOT made, assembled, sold, or approved by Baofeng." It doesn't appear that Baofeng (the company) is at fault, as the DM-5R might be a knockoff if it's not Baofeng licensed – which remains unclear.
Q: Can the DM-5R be upgraded to support our TDMA MotoTRBO ham repeaters?
A: Learning that a company called Radioddity and not Baofeng makes the radio, we also discover that Radioddity claims there will be a software upgrade which will enable compatibility to be released (one already has been.) According to this source, the upgrade will be released by Baofeng Company, which makes little sense if the DM-5R is made by a 3rd party manufacturer or if it's a knockoff.
Q: Will the DM-5R Plus model work on local MotoTRBO repeaters?
A: All indications are that it will not satisfactorily work on the DMARC network. The Baofeng DM-5R Plus is being promoted as having the upgrade already installed, however, online reports indicate that this Plus model remains partially incompatible with DMARC and Brandmeister DMR repeater systems. Furthermore, there is no 16-channel selector on the radio. They aren't quite there yet.
What you will get with the DM-5R is a HT that will do local ANALOG repeater work just like the UV-5R.   It will also do digital simplex, which the UV-5R won't. But it won't get you on DMR repeaters – or in the case of the upgrade, it won't be fully interoperable.
As one ham operator stated after trying the DM-5R, "If you are buying this to talk simplex (point to point) to another Baofeng digital radio, no problem." However, it won't do local DMR repeaters.
Whether you're looking at the DM-5R or DM-5R Plus model it is recommended that you DO NOT BUY at this time.   Maybe by the end of the year (2017) the dust will settle, and clarity on the Baofeng DM-5R will arrive. Until then, stick with something that is known to work if you plan to join DMR hams on the Omaha DMARC system.
COMMENTS: If you have experience using the DM-5R please contact us and share your experience with the radio, installation of the software upgrade, or post upgrade experience.  Indicate your model and software level.
Added
An Amazon.com Review dated September 8, 2017 on the DM-5R Plus model:
If you are buying this to talk simplex (point to point) to another Baofeng digital radio, no problem. But if you are a ham looking for a fully compliant DMR transceiver, pass this one by. I bought it, even did the PLUS upgrade. It will not work to you satisfaction in Brandmeister and other DMR reflectors because it cannot distinguish between slot 1 and slot 2.
more.
Radio seems to built nicely. It's a shame they can't seem to implement full Tier II capability.
.